History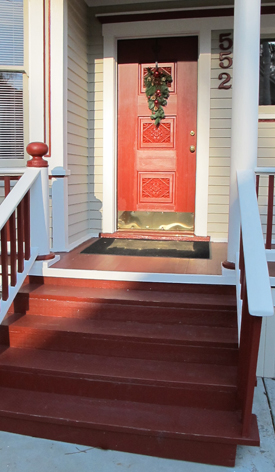 The beautiful Craftsman style home that stands at 552 Commercial Street in downtown Astoria was built in 1906 by a Mr. John Mattson. The two and a half story wood frame house also boasts a full basement on a concrete foundation. Research and rumor also hint the house strongly possesses "Sears" origin.
Rich in history and culture, Astoria was once divided into several distinct ethnic neighborhoods including Scandinavians, Irish, Chinese and Finns. When John Mattson (a Finn) built the house in 1906, it was in the heart of Chinatown. No doubt many men were shanghaied just blocks away from the Mattson home, unfortunately a common practice in Astoria a century ago.
Many different individuals and families have occupied the house since its construction 100 years ago. Shown is a timeline of house tenants over the years.
1906– John Mattson and his wife Fredrika build the house and with their sons live there until about 1930.
1930– C.A. Mattson (possibly John's son) and his wife Nellie obtain the house and live there until 1953.
1953– Mr. & Mrs. C.A. Mattson sold the house to Rafael and Gloria Kimpo. It is believed that sometime under the Kimpo's ownership the house was turned into a four-plex.
1979– Attorney Steve Roman and his law partner Nick Zafiratos bought the house from the Kimpo family and moved their successful practice, Zafiratos & Roman, into the building.
1998– Nick Zafiratos retired and Steve Roman "bought him out" of the house. Shortly thereafter, Portland divorce attorney Jody Stahancyk, a long time friend of Roman, approached him and asked if she could open up a branch of her practice in one of his spare rooms. Roman gladly agreed and currently both Roman and a branch of Stahancyk's office occupy the house.
2015- The law office of Stahancyk, Kent & Hook purchased the house from Steve Roman who retired from practicing law the same year. Stahancyk, Kent & Hook continue to expand their practice in the Astoria and the surrounding area.